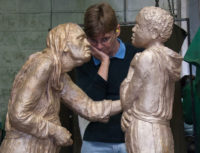 Education
BA, Classical languages, Wellesley College
Summa cum laude; Phi Beta Kappa
MFA, Painting & Drawing, The American University
Wolpoff Prize in Drawing & Works on Paper; Glassman Award as Outstanding Woman Artist
Services Provided
I CREATE ORIGINAL ART (including sculpture, painting, prints, and etched glass) for churches and religious institutions. Commissioned art is a public and permanent addition to a liturgical space and merits careful consideration and planning: to this end, I collaborate with a congregation or institution, exploring with them the theological, liturgical, and pastoral significance of the art commission. I invite them to consider what the commisson will bring to their space: perhaps a powerful visual focus for the congregation; a sculpture that invites worshippers into a quiet space of contemplation; a painting that reflects the social justice concerns of a congregation; or an etched glass screen that links the parish to its history.
My goal is to complete a commission that is appropriate to each congregation and worship space, executed in a contemporary idiom, but honoring the centuries-long tradition of liturgical art.
I OFFER LITURGICAL DESIGN CONSULTATIONS AND PROPOSALS for churches. In this process I guide a congregation to look at their space with fresh eyes. We consider together the ways that changes to the sanctuary and furnishings, and new liturgical art might express more fully a church's current mission and ministry. From these conversations I offer options for their consideration and then develop plans to help accomplish their goals.
Philosophy / Approach
My hope is that every church might have liturgical art, liturgical furnishings, and a worship space that are theologically and aesthetically sound while meeting the needs of their congregation. (For instance, a church with a primary mission to social justice might commission art, and re-design a sanctuary, in a very different way from a church viewing a sacramental ministry as their primary focus.) Achieving a congregation's goal – whether for commissioned art or a renovated worship space – is a collaborative process. I work with a congregation to articulate its mission and worship; together we explore ways that commissioned art, or changes to their church's art, furnishings, and design might offer the congregation a renewed sense of their identity and a visible welcome to newcomers.
I bring to my work over 35 years of experience as an artist and nearly 30 years as a theological educator.
AS AN ARTIST: I have completed commissions for churches and religious institutions across the country. These include bronze sculpture (among them Mary as Prophet, a Faith & Form Religious Arts/Visual Arts Honor Award Winner in 2016, for Virginia Theological Seminary), etched glass, paintings, and woodcut prints.) I teach and write about the visual arts and the church. (See www.margaretadamsparker for a complete CV.)
AS A LITURGICAL DESIGN CONSULTANT: As a theological educator I teach and write about the role of the visual arts in the sanctuary and the life of congregations, discussing art commissions and liturgical design with my students. I bring this background to my work in liturgical consultation and design, approaching each project as an opportunity for education, consultation, and collaboration. I provide theological and aesthetic guidance and help a group approach changes in a pastorally sensitive way.
Service Offerings
Liturgical Design Consultancy
Art & Craft