827 Fontaine Street
Alexandria
Virginia
22302
USA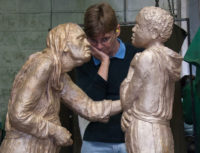 Services Provided:
CREATING BEAUTY & MEANING for SACRED SPACES
Sculpture, paintings, prints, and etched glass
My goal is to work collaboratively with churches and religious institutions to create work that stands in the long tradition of sacred art, executed in a contemporary idiom.
Other Services:
Designs for etched glass
Woodcut prints and reproductions
Philosophy / Approach:
I want my skills and experience as a liturgical artist to help each community accomplish their vision. Together we conceive of and create art for their sacred spaces: art with aesthetic integrity, grounded in the liturgy and theology of the church.
Qualifications:
I have worked as an artist for over 35 years and in theological education for 30.
I have completed commissions – including bronze sculpture, paintings, etched glass, and woodcut prints – for churches and religious institutions nationwide.
For an overview of my work:
ACLS webinar – https://youtu.be/MUFMmFkYl_Q
My website – www.margaretadamsparker.com
Education:
BA, Wellesley College
           Phi Beta Kappa; Summa Cum Laude
MFA, The American University
          Glassman Award as Outstanding Woman Artist at The American University
          Wolpoff Prize for Outstanding Achievement in Drawing and Works on Paper