Please join us for the March ACLS Webinar on March 17th at 1 p.m. ET, 12 p.m. CT and 10 a.m. PT. Our presenter is Brother Mickey McGrath as well known and talented painter of murals!
The registration link to the webinar is below.
Webinar Description: "Painting Walls and Building Bridges"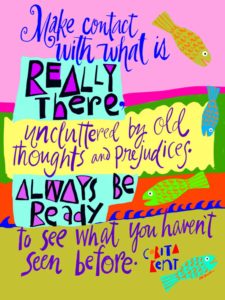 For the last several years, Brother Mickey McGrath has been enjoying opportunities to lead various communities and congregations in the art of mural painting. From church halls and college buildings in the US to an AIDS Relief clinic in Nairobi, Kenya, to a Lakota Indian school in South Dakota, people of all ages and backgrounds have joined in the healing and prayerful process of painting. This work all started in a homeless shelter in Camden, NJ where I live and work. In this webinar session, Brother Mickey will share highlights of his experiences and offer tips and insights as well.
Our Presenter: Brother Mickey McGrath
Brother Mickey McGrath, an Oblate of St. Francis de Sales, lives and works in Camden, NJ. He
is an award-winning artist, author, and speaker whose work celebrates the connections between art, beauty, and religious faith. He is a Guild Master at the Grunewald Guild, an interfaith art community in Leavenworth, WA, where he has taught for thirty-three years.
Brother Mickey currently holds the title of visiting artist at De Sales University in Center Valley, PA. He teaches a one-week summer, graduate, spirituality class at Catholic Theological Union in Chicago and at Boston College.
Brother Mickey is a popular presenter at conferences and retreats throughout the US and
Canada. Bro. Mickey is the illustrator and author of twenty-one award winning books.
Most recently, Brother Mickey has been overseeing the creation of murals as communal
events incorporating the prayerful nature of art and beauty and their connections to social justice and Catholic social teaching.
No matter the subject or topic, Bro. Mickey's work highlights themes of art for meditation; social justice and cultural diversity; and the healing power of beauty in all its forms.
Registration link:
Please register for "Painting Walls and Building Bridges" on Mar 17, 2020 at: https://attendee.gotowebinar.com/register/9173506291317133068
After registering, you will receive a confirmation email containing information about joining the webinar.