Join us on May 19th at 1 p.m. Eastern Time, 12 p.m. Central Time and 10 a.m. Pacific Time.
Register with this link to the Go-To-Webinar Registration site:
https://attendee.gotowebinar.com/register/1556271156730493709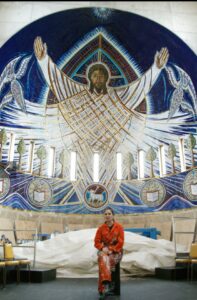 The Webinar Topic:
This is a brief history of a journey through the design and creation of mosaic art for liturgical settings. The presentation will discuss the process of creating an artwork for a spiritual space and how this differs to secular architectural commissions. The mosaics are created through a collaborative process which involves conversations with the pastor, the architect and the community using the space.
Helen creates unique art for spiritual spaces that works in the "vertical towards the spirit and in the horizontal towards the people". Site specific mosaic artworks not only decorate a space but they transform a blank wall or floor pathway into an area of symbolism and story with a three dimensional sense to it. Mosaic is almost 3 dimensional in its ability to evolve and change as the light plays over its surface throughout the day creating an undulating illuminated wall artwork. The mosaic golds illuminate with a spiritual light that glows like a candle is lit from within the artwork. In all my commissions I have create original work that aims to be timeless, not sitting in one era but continuing to be relevant throughout the decades. Symbols from Celtic inspiration and early liturgical art appears  in many of the designs and they continue to inspire a lot of my art.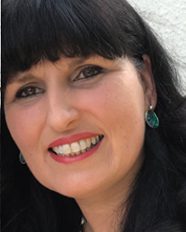 Our Presenter:
Born in Belfast in Northern Ireland, in 1984 Helen moved to the UK to study fine art at Lancaster University. After obtaining a degree in fine art painting she traveled throughout Italy researching and studying mosiac and glass art. She spent time studying glass art at Glasgow University and at studios in Siena; and, mosaic art in Florence and Ravenna. Her father was a great inspiration inspiring her journey into architectural artwork .He designed many liturgical spaces in Northern Ireland. In 1992 she was privileged to create a mosaic shrine for a church her father was extending. The Marian shrine was her first liturgical project that launched a mosaic journey that has spanned the last 27 years, creating artworks throughout the UK, Ireland and the USA.
Follow this link to register for the September 22nd Webinar: https://attendee.gotowebinar.com/register/1556271156730493709
The Webinar ID: 574-546-211