Join us on January 25, 20212 at 1 p.m. ET, 12 p.m. CT and 10 a.m. PT.
PLEASE NOTE: This webinar is being held on the 4th Tuesday of the month. It is a departure from our typical schedule.
Register with this link to the Zoom site:
Click here to register

Our Topic: "The Disappearing Frame: A Story of Stained Glass and Architecture"

In his essay, "The Symbolic Bible of the Middle Ages," architect Francis Palmer Smith calls stained glass the "handmaid of architecture" and "not a mere archaic survival." Smith, like many of his American contemporaries, was a practitioner of the Gothic Revival, a style that prevailed in many parts of the United States from the 1850s to the 1950s. During this same period, stained glass in the Neo-Gothic and Munich Pictorial styles flourished. Moving into the 1950s, churches progressively adopted more modern styles. Stained glass designers found ways to bring the stained glass into conversation with new architectures, especially the shape of a window opening and its surrounding casework. We see an early example of this shift in Emil Hoffman's window designs for Mary Queen of Peace in Webster, Groves, MO.
Today, many communities find themselves looking to salvage and reuse historic windows. In today's conditions with no prevailing architectural style, what can we say about the relationship between stained glass and architecture? Is stained glass still architecture's handmaid or architectural afterthought? How do we design new buildings to accommodate old windows so that they are not mere archaic survival?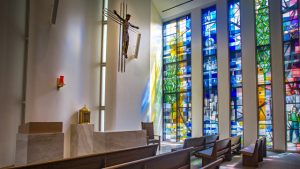 Our Presenter: William Frank, Emil Frei & Associates
William Frank is a multidisciplinary artist and designer. Recent commissions include Via Dolorosa, a site-specific installation for SSM Health Saint Louis University Hospital in Saint Louis, MO. The project earned a 2020 IFRAA Religious Art: Visual Arts Honor Award. William is currently working on Drawn Small, a collaborative work with his children. William is a principal designer for Emil Frei, Inc., a nationally recognized stained-glass studio, where he has been the designer of roughly thirty major stained-glass and mosaic commissions. His "Christ Hymn" window design at Cistercian Preparatory School in Irving, TX received a 2015 IFRAA Religious Art: Visual Art Award.
To Register:
Follow this link to register for the January 25th Webinar: Click here to register