Join us for the November Webinar on November 19th:
Places for celebrating the Sacrament of Penance
( or Reconciliation or Confession or whatever!)
The Webinar starts at 1 p.m. ET / 12 p.m. CT / 10a.m. PT
Follow this link to register: https://attendee.gotowebinar.com/register/2686495436987279875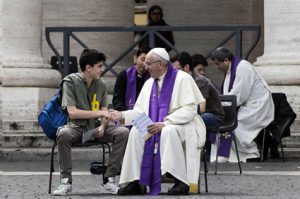 Our Webinar Topic:
Most people will be familiar with the space called a "confessional," but I would like to explore the richness of the Rite (Order) of Penance, with a bit of history and theology, to imagine how we might best celebrate the meaning of this beautiful encounter of a Christian with saving grace in time, space and community.
Our Presenter is Robert Kropac, a fellow member of ACLS:
Bob Kropac is a Northeast Ohio native, and current resident of Cleveland Ohio. He currently serves as pastor of St. Wendelin Catholic Church, and until October was also pastor of St. Peter Parish in downtown Cleveland. He has been a priest of the Diocese of Cleveland for almost 38 years, serving in several parishes both urban and suburban, and as a Director of the Diocesan Worship Office for 5 years. He participated in the Institute for Liturgical Consultants in the mid 90's, and has worked on a few local projects as Liturgical Consultant.
Robert's interests include, travel, food, music (singing), reading and more.