6 Park Place
Clancy
MT
59634
US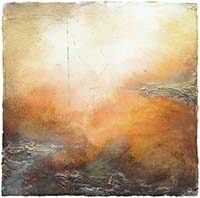 Services Provided:
I create abstract spiritual original paintings for all kinds of spaces: churches and chapels; gathering spaces, social centers and fellowship halls; meditation rooms; healthcare facilities; public spaces; offices; homes and special projects. I hope to work closely with you to create paintings that reflect you or your client's journey to the sacred. I welcome commissions and have an inventory of paintings ready for you.
Philosophy / Approach:
I translate universal spiritual truths into abstract paintings that speak to others, regardless of their traditions.
To form visible signs of invisible grace, I use abstraction which—so powerfully through light, color, and texture—speaks directly to the heart.
I layer my paintings with symbolism. To create symbolism, I use abstract elements, certain materials, and selected painting methods. For example, the abstract element and universal symbol of light underlie all of my paintings. I image my Creator as Light. To capture feelings of the warmth and peace of the Divine Presence, I use a number of techniques including the old masters' use of glazes to capture luminosity. I integrate found objects that abound with symbolism, such as sand from the River Jordan, ashes and palms. The torn-like edges symbolize that we are a part of something much greater—our collective Creator. I create with acrylic paint on wood panel.
BIOGRAPHY: McCray's boundary-transcending abstract spiritual paintings have been exhibited in the US and England; published in Belgium, Germany, Canada, and the United States; and are in public and private collections.
As an adjunct professor of art, she taught for Loyola University Chicago, The University of Mary, Helena College: The University of Montana, and Carroll College. She has lectured at art museums, universities, and conferences; and written articles for national magazines. Linda is a Sister of Charity of Leavenworth Associate.
Education:
MFA in Painting & Drawing, University of Montana
BA in Fine Art, cum laude, Washington State University
Certificate, Spiritual Direction, Benet Hill Monastery
Graduate, Program for Lay Ministers, Diocese of Helena/Carroll College
Artist-in-Residencies: Holter Museum of Art & Blessed Trinity Catholic Community