Davis+Tobias Architecture & Planning
7900 Callaghan Road suite 126
San Antonio
TX
28229
United States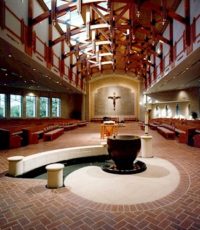 Services Provided:
Preliminary Planning – Develop a process with the parish leadership that will assist in the assessment of the parish physical and spiritual future needs. -Develop committees, Develop Schedules, Clarify tasks, Review parish mission statement, Needs survey for parish committee, Retreats Programming – Review parish requirements through open meetings with advisory groups and parish committees. Determine short-range goals and long-range goals. Space requirements for new or expanded worship space. Design Process – Work with parish in formulation of workshops that relate to worship environment and the space requirements for rites and rituals. The workshops are designed to gain as much participation as possible from community.
Service Offerings:
Liturgical Design Consultancy
Architecture
Art & Craft
Education
Other Services:
Visioning Workshops; Preservation; Master Planning for New or Expanded Campus; Liturgical Furniture Design; Coordination of Liturgical Art for Liturgical Spaces;
Philosophy / Approach:
As we transition from one worship environment to another we must be sensitive to the history of the community. Each individual should have an opportunity to vision with others the environment for gathering together. We must find the story of the community, be inclusive and invite all to participate. This is a time for the parish community to renew its mission, and relearn who they are.
Qualifications:
Gregory M. Davis is the current Past President of ACLS and a graduate of Texas Tech University with a Bachelor of Architecture. He also has done Graduate work in Urban Planning at the University of Texas. Mr. Davis is a registered architect in several states and has designed projects throughout the south and southwest. Mr. Davis has received several design awards and is an active member in the American Institute of Architects. Mr. Davis has designed numerous catholic worship spaces since 1982. His work reflects the design process of community participation in all his projects. His interest in Catholic Church design led him to enroll in the Institute for Liturgical Consultants in 1997. As a Liturgical Design Consultant Mr. Davis works with communities, to formulate their vision of liturgy and design. Each space reflects the unique character of the parish it serves.
Education:
Bachelor of Architecture