WINTER 2021
'Light at the End of the Tunnel'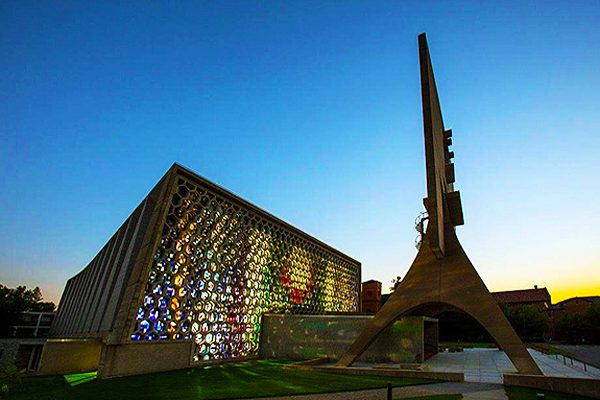 As I write this we are approaching Ash Wednesday. When we enter the forty symbolic days of Lent we focus on prayer, fasting and almsgiving but we also remember that the joy of Easter follows Lent. Remembering the experience of going through the dark times and arriving at a time of joy and light gives us a model for the lives we are experiencing now. When I hear news stations talk of 'light at the end of the tunnel' for the Covid pandemic, I see the Pascal Mystery mirrored in our lives. COVID-19 has invaded my family and I am sure that many of you have experienced, if not the physical, at least the psychological effects of the pandemic. The story of the Pascal Mystery is now learned through a new lens and we all long for the promised fulfillment and a Covid-free world.
Longing and waiting permeate not only our spiritual lives but also our family and professional lives. Like myself, I am sure many of you have seen projects put on hold or experienced delays or cancelations due to the economic effects of COVID-19. In my professional life I am at the stage where passing on what I have been given and what I have learned is important. To this end I have been working for the last couple of years on developing a program for training liturgical design consultants.
As many of you know the fruition of this effort was a new graduate level certification program at St. John's University in Collegeville, Minnesota. It was set to begin Summer Session of 2020. The postponement of all on campus classes due to COVID-19 was a great disappointment to me. However, I was assured of the University's commitment to the program and so began a long, long lesson in waiting and hope. A new beginning for the program has been scheduled for next summer, June 14 - 25.


I am still waiting to begin the classes but I can share the 'light at the end of the tunnel' for this project. While the planning with its ups and downs and now the waiting has taken what seems like a very long time, the focus and need for the program have remained clear. The program recognizes the importance of cross training in all the disciplines that come into play when a faith community decides to build or renovate.


I have often said to people that the design part (the art and architecture) is the easy part of the process – and for me the most enjoyable. Next comes the liturgical understanding of how the community worships, what their faith tradition allows and requires and how their worship can be embodied – supported and enhanced – through the ordering of their space.
Finally there is the people part - which can be the most difficult and can also be the most rewarding. This multipronged approach to the design of liturgical space was at the core of the Institute for Liturgical Consulting at the Catholic Theological Union in Chicago. This is the approach that has provided a model during our crafting of the program at St. John's. The values of creating beautiful spaces for worship and the highest standards of workmanship - so fundamental to ACLS - permeate this program.


Anyone interested in learning more in depth about liturgical art and architecture and exploring the practical application to the design of worship spaces is encouraged to contact:


Beauty that Saves!
Art and the Catholic Church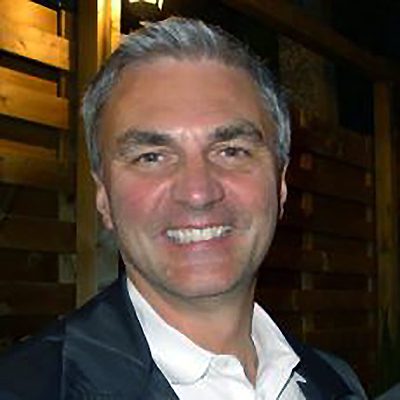 Although rooted in Judaism which had a strict prohibition against the depiction of the divine, humans and even animals out of fear for idolatry, very quickly after its inception Christianity embraced the arts for use in liturgical settings as well as for the proclamation of the Gospel. And despite the occasional iconoclastic setback or artistic blunder, Christianity and the arts have successfully partnered for some 2000 years.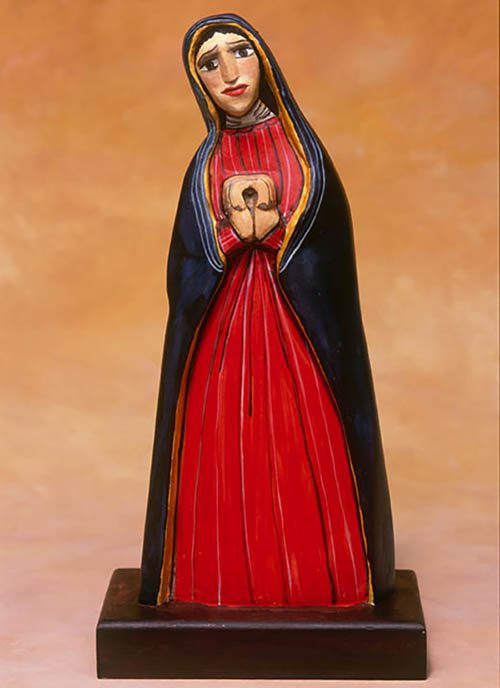 Our Lady of Sorrows by Marie Romero Cash
The symbiotic relationship between Christianity and the sacred arts is complex and has many different strata ranging from rather obvious to quite complex. By virtue of its mere beauty art has the capacity to provide respite and hope in a world that often teeters on the precipice of chaos. By touching the mind, heart and soul sacred art has the ability to offer unspoken insights into our shared human mysteries such as life and death or love and hatred. And through its shapes, colors, textures and composition Christian art has an uncanny way of presenting our Christian narrative and articulating our Christian values in ways that words cannot.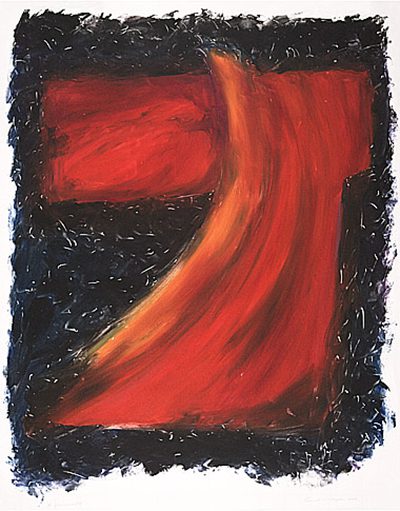 Jesus Dies on the Cross by Lucinda Naylor
Christian art affirms who we are as Christians and at the same time invites and challenges us to be better Christians, sometimes dramatically but often in almost imperceptible ways. And those practicing Christian arts celebrate beauty itself and honor God, the source of all beauty in whose ongoing creative process they participate.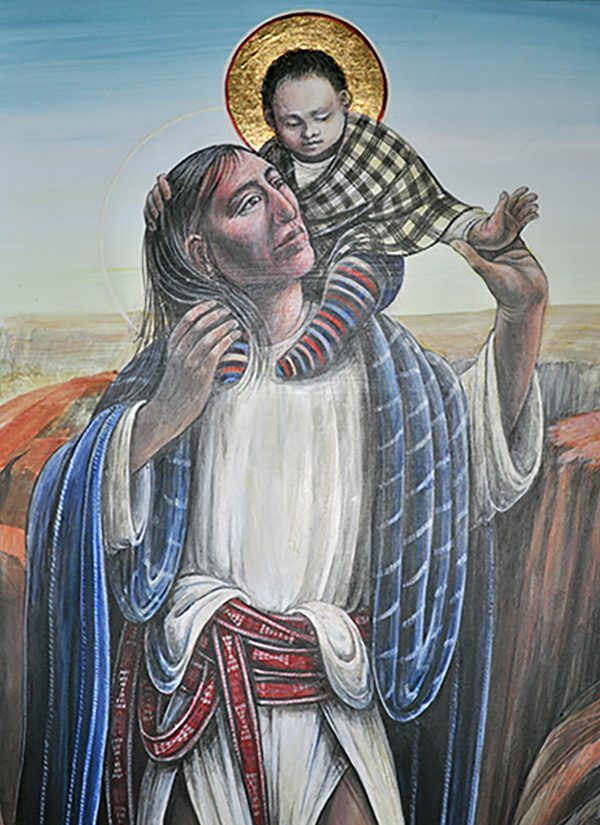 Saint Christopher by John Giuliani
And so, over the centuries Christian communities have built chapels, churches and cathedrals. They have adorned them with fine stained glass, frescos, paintings and statuary. They have commissioned liturgical furnishings and textiles, vestments and vessels. And rightfully so, each generation even until today has done that in the style proper to its own age not only in response to the changing times but often in anticipation of times to come.
Thanks for the Opportunity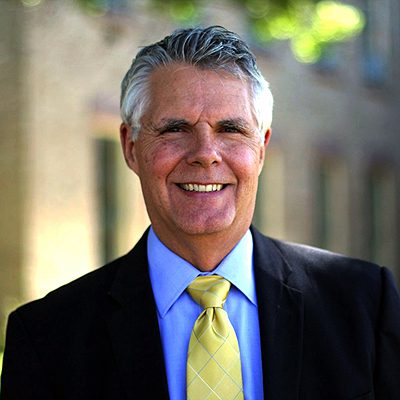 I have had the privilege of serving on the ACLS Board for the past three years and, since leaving the Board at the end of June this year, I have been asked to offer some of my thoughts about ACLS.


During my professional career I have served on numerous civic, charitable and professional organization Boards as well as chairing my Parish's Building Committee for the expansion of our worship building. All of these entities had paid staff. ACLS, however, is unique in that it is run 100% by member volunteers.


ACLS has accomplished many things over the past few years. This is quite commendable, especially considering that many members are giving of their time and talents with no compensation other than the satisfaction of furthering excellence in creation of beautiful worship environments. Below are some of those accomplishments:

Re-design of the ACLS website
Continuation of our excellent monthly webinar series
The addition of an Associate level membership for students, interns or apprentices who have an interest in contributing to the creation of beautiful and meaningful places for worship
Establishment of the Communications Committee
Creation of our bi-weekly virtual membership gatherings
Re-vamping of the membership dues structure
Last year, ACLS teamed with Liturgical Training Publications to present a three-part series of virtual workshops on liturgical art and design
ACLS has continued to provide speakers for educational programs at the Southwest Liturgical Conference and other religious conferences across the United States
ACLS had planned a group trip to Oberammergau, Germany to see the Passion Play and visit other sites in southern Germany and Austria. Unfortunately, COVID 19 hit and all plans were cancelled
The restarting of "Insites", an electronic circular containing short articles and other information of interest to ACLS members
Changing ACLS from a "Professional Support Organization" to a Non-profit Corporation
Revising of our Bylaws and our Policies and Procedures in anticipation of obtaining 501(c)(6) Non-Profit status with the Internal Revenue Service
One thing I have learned from my involvement with any organization is that the more I became involved, the more I learned and the more I enjoyed being a part of those organizations. ACLS has made me a better architect. I hope you will consider joining one of the ACLS committees such as the Education/Webinar Committee, the Communications Committee or the Membership Committee. ACLS will welcome your help!


Don't forget to thank the volunteers who keep ACLS going the next time you see or talk with one! I know they will appreciate it.
ACLS
Would like to acknowledge those members who spoke at the Southwest Liturgical Conference's Study Week:


Paul Barribeau
Carol Frenning
Ken Griesemer
Robert Habiger
James Hundt
Gilbert Sunghera
Johan van Parys


Message from the Board
JAMES HUNDT, ACLS PRESIDENT
"Our booth and our workshops will stay available to registered attendees through March 19, 2021"
February 2-4, 2021 was the 59th Annual Study Week organized by the Southwest Liturgical Conference. Of course, it was held completely online but ACLS was still a strong presence at the conference. We had a virtual exhibit booth that saw 812 visits. Visitors had the opportunity to enter a raffle by providing their name and email address so that we could sign them up for our quarterly newsletter. The winner – picked at random – was Rev. Cliff Jacobson, Pastor of St. Matthew's Catholic Church in Gillette, WY. Fr. Jacobson will receive a $50 Amazon gift card, complements of ACLS. (Hopefully you new subscribers are reading this in your mailbox!) Many thanks to Associate Member Katie Bovitz who worked diligently with Will Brocious to set up and monitor the booth.


In addition to the ACLS exhibit booth, many of our members either conducted workshops or had their own exhibit booths – or sometimes both. ACLS members conducted six workshops in the "Art" & "Building" Tracks – two each day. Attendance was much higher than we would typically have at past study weeks, as attendees were able to view the workshops either live or recorded. Both our booth and our workshops will stay available to registered attendees through March 19, 2021 so our message will continue to get out there. Those of us who pre-recorded our workshops also have the ability to use them on our own or others' websites to make them available to a larger audience.


Speaking of larger audiences, the board is in the process of making recordings of most of the ACLS webinars from the last two years available to the public (with presenters' permission, of course.) We are just finalizing the process so look for an announcement with links to the YouTube channel coming through our website soon.


We continue to hold our bi-weekly member meetings every other Thursday at 7:00 PM Eastern time. That time seems to suit our members across the country better than the earlier timeslot so we are sticking with that for now. If you haven't joined us yet, give it a try soon. Emails with the link for joining are typically sent out a day or two in advance.
Finally, the board is tentatively looking at the possibilities for future retreats and/or trips once the situation with the pandemic improves sufficiently. We miss seeing you all! If you have any thoughts or ideas that you would like to share with the board, please feel free to reach out to me about that or anything else that is on your mind. We are here for our members – whatever the need!


Webinars
DISCUSSIONS ON THEOLOGICAL BASIS FOR SUSTAINABLE DESIGN
Robert Chiotti, Architect
January 19, 2021, 1:00 pm EDT
CURRENT WORK AND STATIONS OF THE CROSS
February 16, 2021, 1:00 pm EDT.
CURRENT WORK AND PROCESS OF
STAINED-GLASS ARTWORK
March 16, 2021, 1:00 pm EDT
Events/Conferences
NPM 44TH ANNUAL CONVENTION
SWLC ANNUAL STUDY WEEK 2022
Lubbock, TX
January 20-22, 2022
52ND FDLC NATIONAL
MEETING 2020
"This House Brings to Light the Mystery of the Church"