Join us on May 19th at 1 p.m. Eastern Time, 12 p.m. Central Time and 10 a.m. Pacific Time.
Register with this link to the Go-To-Webinar Registration site:
https://attendee.gotowebinar.com/register/4897728773145282061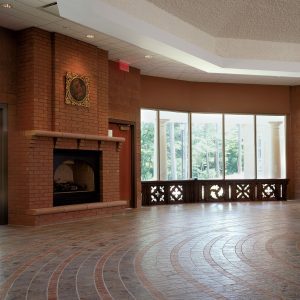 The Webinar Topic:
Early Roman Christians called them courtyards or atria. Bernini expanded it to a piazza at St. Peter's Basilica. In the 20th century, Environment & Art in Catholic Worship called it "a concourse or foyer or other place adequate for gathering before or after liturgies". It's also been called a commons or even a lobby. Whatever you call this place for gathering, it is a very important part of church design, where it serves both a liturgical and relational role.
We invite you to join liturgical consultant Ken Griesemer and architect Jim Hundt as they present an illustrated discussion of gathering spaces and the liturgical and relational roles of these important spaces in today's and tomorrow's places of worship.
The Presenters:
Ken Griesemer, Emeritus Architect, has worked as a liturgical architect and design consultant since 1985.  Based in Albuquerque, NM, Ken established his liturgical design consulting practice in 1999 serving church clients across the United States and in Mexico and New Zealand.  He graduated from the University of Cincinnati, College of Design, Architecture and Art in 1978, and completed studies at the Institute for Liturgical Consultants at Catholic Theological Union in Chicago, IL in 1993.  He is a founding member and past Board President of the Association of Consultants for Liturgical Space.  Since 2002, Ken has served as an Associate Board Member of the Southwest Liturgical Conference (SWLC).  After presenting workshops and organizing "Pecha Kucha" events for artists, architects, and consultants for a number of years at the annual SWLC Study Week, Ken initiated a Sacred Art and Architecture track for the Conference in 2016.  This ongoing effort is supported by the expertise and generosity of ACLS members.  Ken has been active in adult initiation ministry (RCIA) at the parish and diocesan levels since 1984, and has served on the Liturgical Commission of the Archdiocese of Santa Fe since 1997.  He graduated from the Hesychia School of Spiritual Direction in Tucson, AZ in 2016.
James Hundt, RA is the owner of the Schenectady, NY firm of Foresight Architects, a firm with a special focus on religious architecture. Since founding his firm in 1993, he has designed a wide variety of buildings for over 100 religious organizations and other institutional clients throughout the eastern half of the country. Mr. Hundt graduated from the McGill University School of Architecture in Montreal in 1980. He is actively involved in continuing education in church design issues on both a local and national level, including presentations at conferences such as the Southwest Liturgical Conference. He is currently serving his second term as Board President of the Association of Consultants for Liturgical Space and as has previously served as Vice Chair of the Interfaith Forum on Religion, Art & Architecture (IFRAA). His projects have been published in several periodicals, including the Environment & Art Letter, EnVision Church, Ministry & Liturgy and Faith & Form.
Follow this link to register for the May 19th Webinar:  https://attendee.gotowebinar.com/register/4897728773145282061