1612 S 4th Ave
Sioux Falls
SD
57105
USA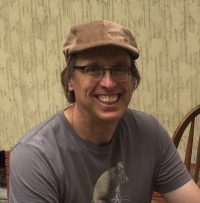 Services Provided:
Art for liturgical spaces in stained glass, mosaic, and terrazzo.
Philosophy / Approach:
I take seriously the role of an artist as servant. I am inspired by communities of faith. I see the process of making art in alignment with a confessional and sacramental liturgy. We need art that pulls us deeply into the mystery of faith and grace. Please contact me if I might be of assistance to you in creating lasting stained glass, mosaics or terrazzo liturgical art. Thank you.
Qualifications:
I have created artworks in architectural art glass, mosaic and terrazzo across the United States and Canada. My work is reviewed in more than 100 publications, including Architectural Record, Sculpture, Art in America, and Stained Glass Quarterly. I received my M.F.A. from the University of Colorado at Boulder. I am a professor of art at Augustana University in Sioux Falls, South Dakota. My work has received numerous Faith & Form Awards in Religious Arts.