Pamela T Hardiman Liturgical Fiber Art
20 Garden St
Farmington
CT
06032
USA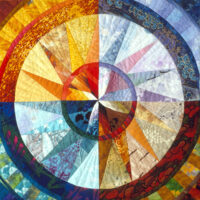 Services Provided:
Vibrant liturgical fiber art designed specifically for your space using hand painted silk and/or multiple fabrics from around the world. Processional banners, wallhangings, vestments, and paraments. Also clothing and accessory items, including hand-painted silk scarves for cantors or others and embellished men's shirts.
Philosophy / Approach:
My best work comes from a collaborative approach with the client, in which we look at samples of my work (ideally) in the space or online, discuss how comprehensive the project will be, what approach to take – hand painted silk, piecing or both, and the color range.
Qualifications:
Over 30 years experience working with worshipping communities