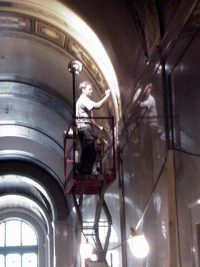 Services Provided:
Decorative Painting, Fine Art, Decorative Art, Restoration, conservation of historic surfaces, Art restoration, gold leaf, mosaic repair and restoration, custom wood treatments and finishes, design and consultation
Philosophy / Approach:
Not all spaces are of equal importance. We strive to create an aesthetic environment that invokes feeling of peace, serenity, prayer and introspection. We provide and enhance visual cues that bolster the best aspects of the human experience.
Qualifications:
Award winning fine artist, with a hand-picked team of talented craftspeople, having completed an impressive body of work in special liturgical and otherwise important spaces on 4 continents.
Education:
BA UCLA, Otis School of Design, Hand selected courses world wide,