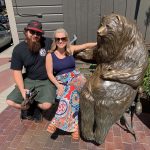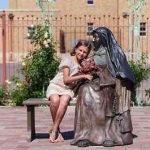 "Sculpture and the Coming Together of Community"
The May ACLS Webinar is Tuesday May 17.  It is broadcast live at 1:00 pm ET (12 pm CT, 11:00 am MT, 10:00 am PT).  The registration link is below.
What role does sculpture play in the liturgical and public spheres?  How does a sculptor and public art artist become involved in and obtain commissions in the liturgical and public art arenas?  Michele will discuss her approach and philosophy concerning liturgical and public work, and how, though sometimes viewed as opposites, the two represent the same underlying concepts.  The focus will also be on how the artwork becomes an interactive and almost living piece, which should involve and inspire those who view and have contact  with it.  She will share some of the ups and downs of working in these environments, and how to deal with both the successes and disappointments. 
Michele vandenHeuvel of Benebronze Studio, LLC is a bronze sculptor living in Albuquerque, NM.  Her formal training is that of an art therapist; she has worked on inpatient psychiatric units and with traumatized children. She currently works in both the liturgical and secular sculpture worlds.  Her focus in both has been to create welcoming, inspirational, interactive and touchable art.  The liturgical sculpture is to help worshippers strengthen their faith. Much of her non-liturgical work has been in the field of Public Art, including both indoor and outdoor pieces throughout the country.