As many of you know, the interfaith journal on religion, art & architecture published by the AIA entitled "Faith & Form" ceased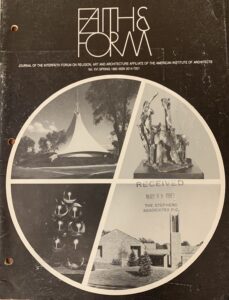 publication in 2019, after over 50 years of publication. As I have studied religious art & architecture and grown in my career in those areas, these publications have educated and inspired me many times over the years. Sadly, the 36-year collection cannot accompany me to my newest home office so I am offering them to anyone who wants to give them a good home. I have tried a few local architecture schools but no takers so far.
To be specific, I believe I have every issue between the Spring of 1983 (Vol XVI) to the last issue ever published (Vol. LII, No. 4, 2019) – possibly with some duplicates. I would be happy to send them to anyone willing to pay the shipping costs. (These may be eligible for USPS Media Mail rates.)
I also have back issues of Environment & Art Letter (also no longer published), Ministry & Liturgy and Partners for Sacred Places. I can provide more detail if anyone is interested.
Jim Hundt
[email protected]