If you haven't had a chance to register for this  webinar , it is not too late!
Besides providing useful information on design considerations for incorporating a pipe organ or electronic organ  into places  for worship, Scott's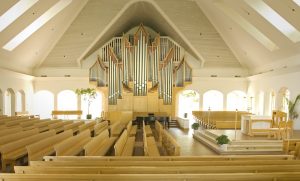 presentation will provide glimpses into organ chambers and spaces rarely seen by anyone outside of the organ professional. The presentation will also have images of churches where the design of the organ has added to the beauty of the liturgical and architectural environment.
Registration information:
Registration URL: https://attendee.gotowebinar.com/register/3939734176165288451
Hope you can make the presentation!
Paul Barribeau
About the Webinar:
The organ is an instrument used for centuries to help express our faith in worship and song. There are a great many types of organs available, and a host of options for the selection and design of instruments. The objective is to assist worship space architects and planners in designing functionally and acoustically appropriate spaces for organs. Descriptions of and considerations for digital and pipe organs will be included. Related topics discussed will include organ types, size, space allotment, location, proximities, layouts, as well as acoustic considerations, technical infrastructure, aesthetics, and care and maintenance factors.
About the Presenter:
Scott Riedel graduated from the University Of Wisconsin-Milwaukee School of Architecture and the Wisconsin Conservatory

of Music. He is Organist-Choirmaster at Christ Church, Episcopal, Whitefish Bay, Wisconsin, and has taught the Science of Acoustics course at Columbia College Chicago. Mr. Riedel has consulted on the design and installation of hundreds of new, rebuilt, and re-located heritage pipe organs throughout the United States. He is published in the "GIA Quarterly", "The Diapason", "CrossAccent" (Association of Lutheran Church Musicians), and the Yale Institute of Sacred Music "Review" magazines. He has presented lectures on acoustics and organs to the Association of Lutheran Church Musicians, National Association of Pastoral Musicians, American Guild of Organist, American Institute of Architects, and The Acoustical Society of America.